We know you love your pet which is why we thought we would give you some suggestions about what toys you should get them. Let's face it, your pet deserves the best and that is why you should give them the most fun toys.
We have enlisted a lot of fun items which are both entertaining and problem-solving for matters such as boredom, chewing, or anxiety.
In addition, in order to make your life easier, we also added a direct link to some products we thought might be suitable for your furry loved ones.
Continue reading to find out what toys could be life-changing for your pets and their behavior.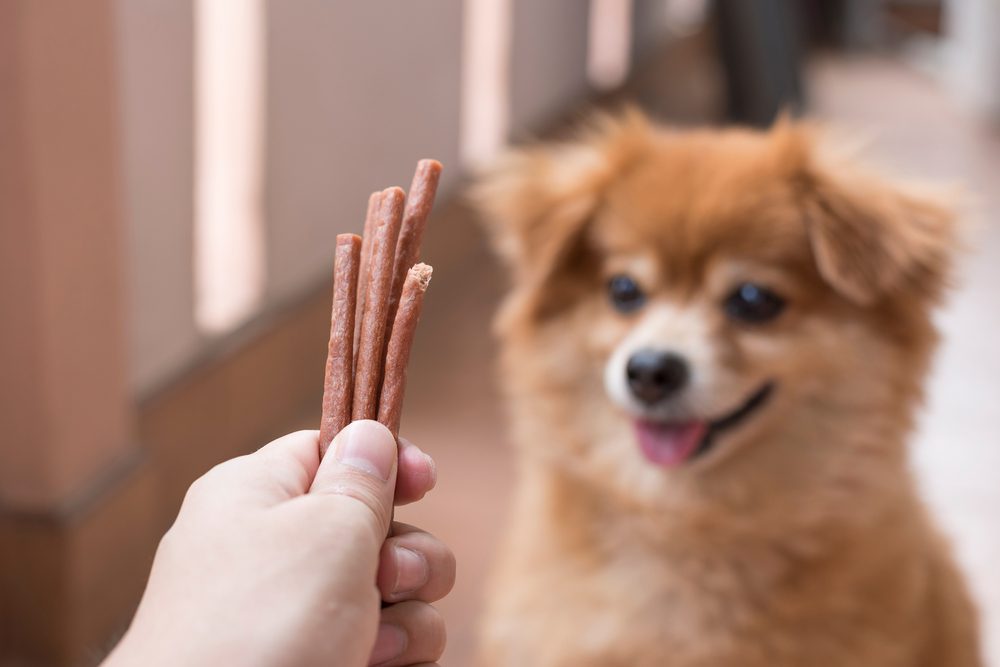 1. Dog Stick
This amazing dog stick is exactly what your pet needs. It has a barbecue and wood flavor and it's made of safe synthetic material and natural wood. It's perfect for your adorable puppy to play with, it's safe and it encourages chewing behavior.
Here is where you can get yours: Safe and Long-Lasting Chewable Sticks.
2.
Hide-A-Squirrel Squeaky Puzzle
This puzzle is a must for your pet because it will keep him engaged and active for some time. You just have to toss the squirrels in the tree look-alike puzzle, give it to your dog and let them have fun while looking for them.
This is also good for their teeth and gums because the material is not going to damage their denture. In addition, this toy will stimulate and challenge your pet's behavior and brain.
3. SmartyKat Hot Pursuit
Is your cat bored and keeps bugging you? Well, your feline will love this item. It will keep them busy and they will play for hours. They will never get bored of this toy, it's an infinite source of fun.
4. Blinky Babble Ball
This ball is the perfect gift for overly excited and energetic dogs. This ball flashes and makes sounds while in motion, it's made of a proper material which makes it safe for chewing. The Blinky Ball will keep your pet busy when you're too exhausted for playtime.
5. Tower of Tracks
A tower of tracks toy will challenge and keep your cat engaged for quite some time. It has three levels of tracks and each has colorful balls, making it perfect for your curious feline to play.
In addition, while playing with it your kitty's hunting instincts will be stimulated.
6. Ultra Ball
A very good choice when it comes to balls for your dog. Its design is very good, it's not heavy at all and it can be used in the pool thanks to its floating material. The ball's texture is suitable for chewers.
Your pet will have the time of their life while playing fetch.
7. Splash Pad for Dogs
During the summertime when the temperatures go very high, this is life-saving for your dog. They will have an amazing time playing with this dog-designed fountain-like toy. It comes with sprinklers.
Keep in mind that the material is durable, however, you should trim your dog's nails before their big splash.
8. Treat Dispensing Ball
A ball that gives your pet treats is a good idea in order to stimulate their IQ and behavior. It will keep them physically active and it also helps when you want to slow their eating process.
It is also very easy to use: you just put in the plastic ball your pet's favorite treats.
9. Dog Rope
Is your puppy chewing everything in their way? Well, among other toys which can help them with their bad habit, we believe this rope specially made for their case will be a big help. It's made of tough material, it's safe, and is also an anxiety reliever.
10. Suction Cup Toy
This item is also a fun toy for puppies, especially for ones who keep chewing on your shoes or furniture. Being attached to a rope it makes things more interesting for your furry friend.
The material used is safe and non-toxic and it actually makes their teeth healthier.
11. Electric Flopping Fish
Your cat will be intrigued by this fun toy. The minute they touch this toy, it will start wiggling and your cat will be infatuated with it for hours. It is very realistic and it starts moving like a real fish. Consider using some catnip that way your beloved pet will feel even better.
You can recharge it that way you won't have to deal with the cost of new batteries. The materials used are very safe.
12.
Super Roller Circuit Toy For Cats
This motion-activated circuit will stimulate your kitty's hunting instincts. You place a ball in the circuit, your pet is activating it with their paw and then they will be fascinated by their new toy.
13. Cat Treat Dispenser Toy
The 360° Rotating Windmill Interactive Slow Feeder Toy will be your cat's new best friend. It has a rotating wheel design. It will discipline and entertain them at the same time. What's not to like? They get their favorite treats while also playing.
14. Hamster Chew Toys Set
Hamster owners could be interested in purchasing a set of wooden chewing toys. You may wanna do something a little bit different than just giving them a spinning wheel, a set would entertain them more.
15. Snuffle Mat for Dogs
This is a very good training method for your puppy. You can hide treats in this mat and have them busy for quite some time. They will be patiently searching and won't give up until they do.
16. Small Cruiser For Hamsters
A small cruiser for hamsters can be very entertaining and will get them to exercise as well. The wheels can make it stationary or mobile. However, it is advised not to use it for pet mice or dwarf hamster breeds.
17. Lick Mat for Dogs
Even if your dog suffers from excessive licking or not this mat is the best tool against boredom or anxiety. You place their food on this item and its design makes them lick it even after the food is gone.
Doing this is an amazing help against anxiety since licking repeatedly will them reduce it. It is very easy to clean and use and it's made only from safe materials so you don't have to worry about that.
18. Interactive Treat Puzzle
An interactive puzzle will discipline and keep your pet busy for hours. This kind of toy will challenge their minds and make them enjoy their new toy at the same time. It will reduce their destructive behavior and boredom.
19. Tough Dog Toy For Dogs
This is a very helpful toy to train your puppy. Like the majority of the toys mentioned above this toy is used for big chewers. This kind of item is also good for their teeth and it's an exciting exercise for them.
20. Stuffed Animals For Dogs
These types are safe and durable and will keep good company to your pet. They are lightweight and can help them against boredom, loneliness, and anxiety.
21. Interactive Dog Toy Soccer Ball
This soccer ball is specially made for our canine friends. It has nylon tags perfect for them to grab it and play with other dogs, while in the water and so on. It's lightweight and durable.
22. Non-Toxic Natural Rubber
We thought we would tell you about one more toy which is a good choice for your aggressive chewer.
This Feeko Dog Toys for Aggressive Chewers is eco-friendly, helps their teeth and gums and your furry friend can actually play with another pal with this toy.
Bonus: You can add peanut butter to it.
You may also want to read Can You Believe People Keep These 7 Weird Animals as Pets?!